4 Ways to Stimulate Child Brain Development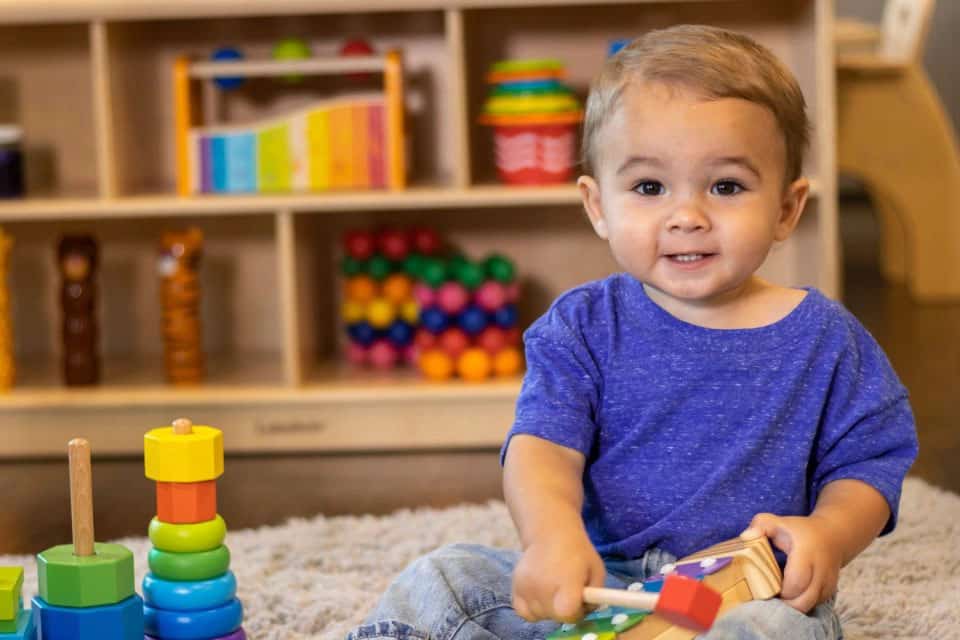 Brain development plays a significant role in a child's overall cognitive development, which helps us with our thinking, learning and problem-solving skills. From birth to three years old, your child's brain will develop rapidly during this critical time for learning and development.
How to Stimulate Child Brain Development
The best way to help your child's brain develop is to actively engage them through everyday activities like talking, playing, reading, and comforting them when they feel stressed. Here are a few different ways of stimulating brain development in a child.
Talk
Talk to your child about what you are doing. Describe things you see together, such as "Here is a dog. He is big and brown. See his tail wag." As babies begin to babble and coo, talk with them as though they are carrying on a conversation with you. Ask toddlers simple questions to encourage responses.
Find a New Horizon Academy Near You
Play
Play is a wonderful way to help a baby or toddler's brain develop. Play might be a game, talking, or singing to actively engage the child. Games like "Peek-a-boo" and holding toys out to watch help a baby's brain develop. For toddlers, sing songs with actions, like "Wheels on the Bus," encourage pretend play, color, and build with blocks and toys. These foster both imagination and creativity and stimulate brain development.
Comfort
Studies show that responsive, supportive care can help babies handle stress better than if care is inconsistent. Let your child know that you are there to comfort and help them when they feel stressed. Developing and maintaining routines is also comforting for your child. Establishing regular times for playing, eating, and napping will help your child feel more secure, and will allow for additional cognitive development.
Read
Reading is one of the best ways to promote a child's brain development. Even before your child can recognize letters or words, reading kick starts their language and communication skills. Hearing words and seeing pictures connects the two together in your child's mind. Repeating the same books further builds recognition between the words you speak and the images on the page. As a child grows, ask him or her questions like "Where is the dog?" to encourage interaction with the picture on the page. To further engage children, rotate who gets to choose the book for story time each day.
For more ideas on how to stimulate a child's brain and cognitive development, visit helpmegrowmn.org.
Portions of this content, developed by Help Me Grow Minnesota, may have previously appeared elsewhere.
New Horizon Academy is a nationally recognized early learning provider with over 90 schools in Minnesota, Colorado, Iowa, Idaho, and Kansas. Through play-based curriculum and high-quality daycare, New Horizon Academy schools nurture and prepare children to succeed in school and in life.
Schedule a tour to learn more about our highly trained teachers, safe and secure facilities, and commitment to providing the highest quality care. Contact a New Horizon Academy childcare center near you today!