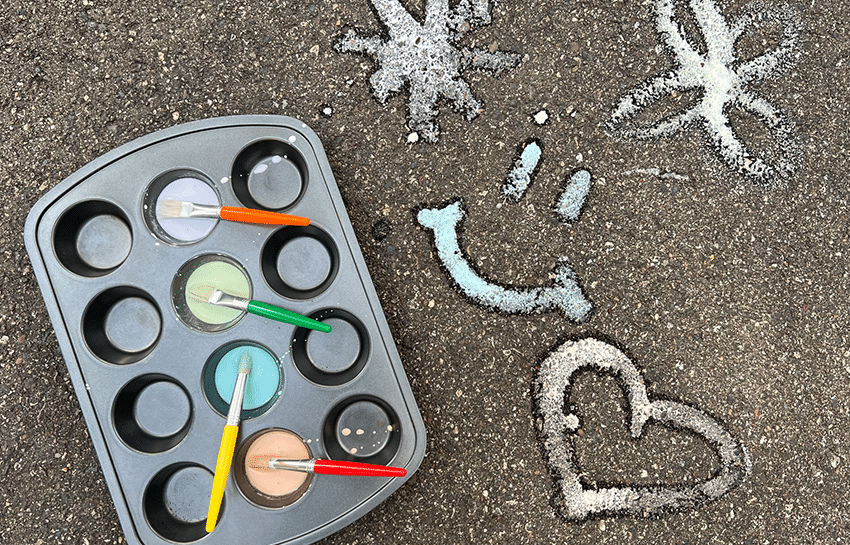 We love to create chalk paint for a fun outdoor craft activity! This sidewalk chalk paint lets you easily paint pictures, design a track for bikes and cars, or make a hopscotch game. Your kiddos will love it! Here are our easy instructions for how to make chalk paint for a fun outdoor art activity.
How to Make Sidewalk Chalk Paint
We love to make our sidewalk paint recipe because it is easier to clean up versus using food coloring or acrylic paint. Plus, it is a great way to use up your small pieces of leftover chalk!
Materials:
2 tbsp cornstarch
2 tbsp water
½ piece of chalk
Muffin tin
Paintbrushes
Measuring cups
Instructions:
Add 2 tablespoons of cornstarch into a measuring cup.
Add 2 tablespoons of water into the cup and mix until blended.
Grate sidewalk chalk to get approximately ½ tablespoon of chalk and add it to the cornstarch mixture.
Pour the chalk paint mixture into a muffin tin.
Repeat with each color you would like to make into chalk paint.
Prevent the chalk paint from sitting in the sun too long. It can be challenging to clean up once the paint dries, so be sure to clean up your design when finished using a high-powered garden hose to remove the chalk from the driveway or sidewalk.
DIY Chalk Paint – Video Tutorial
For more outdoor fun, check out some of our other favorite outdoor activities for kids!
New Horizon Academy is a nationally recognized early learning provider with over 90 schools in Minnesota, Colorado, Iowa, Idaho, and Kansas. Through play-based curriculum and high-quality daycare, New Horizon Academy schools nurture and prepare children to succeed in school and life.
Schedule a tour to learn more about our highly trained teachers, safe and secure facilities, and commitment to providing the highest quality care. Contact a New Horizon Academy childcare center near you today.