5 Tips to Ease into Back-to-School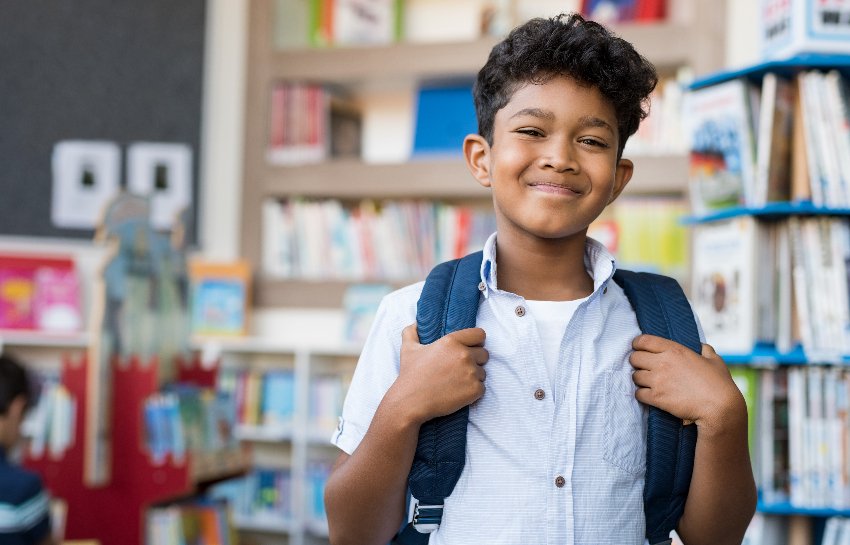 Returning to school will look very different this year—from new safety protocols, to online learning, and varied attendance schedules, it is a new experience for all of us. Preparing ahead of time can help ease some of the stress your child may experience. These tips may help you, too.
Focus on Seeing the Bright Side of Things and Celebrate
Instead of focusing on the challenges of the new school routines, concentrate on the many positive aspects the new school year presents, like connecting with peers, making friends, and learning new skills. Focusing on the positive will help your child see the best in the new school year.
Celebrate the new school year with a back-to- school countdown paper chain, reading a back-to-school book, a special breakfast on the first day of school, back-to-school photos, and cherished conversations at the end of each day. By celebrating and making the start of the school year special, it will show your child that school is important and is something to be celebrated and to get excited about.
Remain Calm
It is important to remember children will react to both what you say and how you say it and will imitate what they see, so you need to stay calm. Children are good at picking up on social cues from conversations you have with others, so be sure you are aware. As their parent, it is your responsibility to be calm, help them navigate their new schedule, and to prepare them for the new academic year.
Help your Child Express her Feelings
It is normal for your child to experience a wide range of emotions, and she may even experience behavior changes. Acknowledge your feelings and your child's. Encourage her to name and manage her feelings. Offer your child calm, comfort and reassurance with deep breathing and phrases like, "You can handle this. We'll get through this together." Practice yoga and breathing techniques to reduce stress and provide tranquility during times of stress.
Create your New Normal
Our daily and weekly routines have been turned upside down, so it is imperative to create a new daily routine. The brain thrives on predictable patterns. Plan it, draw it, label it, post it somewhere obvious, and refer to it often so children know what to expect. Creating a rhythm to your days and knowing what to expect next cultivates a sense of safety.
Connection
Build togetherness into your day. For young children, this might look like extra reading or playing blocks together. For older children, it might be doing a puzzle or playing a favorite video game together. Notice whatever your child is doing and join in their play. Go outside and play. Get down on the floor and play. Play board games. Giggle. Snuggle. Hug. Make a connection.
Connection isn't just good for your mood; it builds neural connections in your child's brain and increases cooperation (and who couldn't use a little of that right now?).
We wish you and your family a great school year!